MMIHS.ORG is a site dedicated to increasing awareness of MMIHS and providing support and resources for those affected by it. The creation of this site is dedicated to all those who have been touched by this rare syndrome. May our efforts contribute to making the future a place that is as extraordinary as each of you.
If you have any questions, comments, or input please utilize the contact page to get in touch. In addition, if you or a family member have been affected by MMIHS please join The Megacystis Microcolon Support Group. Made up of over 75 members, this private group is truly an invaluable resource for MMIHS patients and their family members.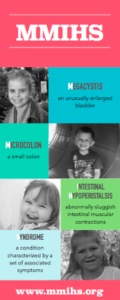 Please download and print our brochures to help increase the education and awareness of MMIHS.
The general brochure contains a description of MMIHS and a glimpse of what is can "look" like. It also includes an explanation of typical symptom management strategies and a list of things you should know straight from MMIHS families themselves!
It's a great brochure to print and pass out to friends, family members, educational staff, or anyone that knows or works with someone who has MMIHS.
The professional brochure contains more detailed information regarding diagnosis and symptom management. This may be a great resource for people within the medical profession that work with MMIHS patients or should be aware of the syndrome!
Please note: The information on this website was generated by a group of MMIHS families primarily based in the US. We recognize that care, practice and protocol vary by location and individual and it is not the intention of MMIHS.ORG to provide specific medical advice but rather to share the knowledge and experience available to us and provide universal information to help patients or their loved ones to better understand their health, diagnosed condition, and the current range of approaches related to treatment.
We continually strive to provide the most up to date and accurate information possible so we encourage you to utilize the contact page to get in touch if you have any questions, comments, or input regarding content on the website.