Family Tip: When traveling with a feeding pump and bag, a simple carabiner and piece of rope can be used to hang the bag in an upright position from the handle of a stroller or inside the car.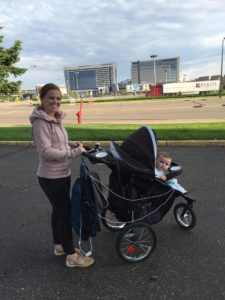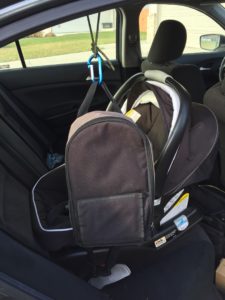 "We purchased these to hang things in the car and off the stroller. The work great and can hold a lot of stuff. I haven't found anything too heavy for them yet!" -MMIHS Family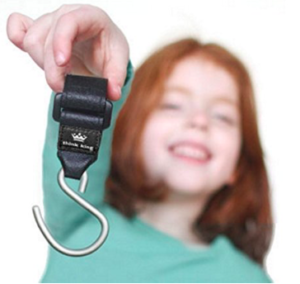 Think King Hooks
Family Travel Tip
Keep an "Emergency Bag" in the car.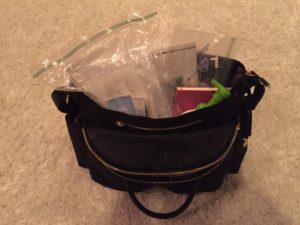 The following is just an example as the contents and products may vary by patient. One should always seek
medical advice and follow the plan and procedure put in place by their personal medical providers.
General Supplies:
Important Phone Numbers
Extra Batteries for Pumps
Extra alcohol preps and saline and heparin flushes
Line Caps
Hand Sanitizer
Gloves
An extra Feeding Tube
A Clamp- for if the central line ever were to leak.
Pads and Tape- for if the feeding tube came out.
An Extra Mickey button
G Tube Extension and Syringe for venting.
Diapers and Change of Clothes
Saline bags 250 or 500 ml's
Ostomy Supplies:
2 - flanges (I have them pre-cut for ease)
2 - ostomy bags
2 - barrier rings
Adhesive remover pads
Barrier spray
Stoma powder
Gauze pads
Diaper size garbage bags
Ostomy scissors
Cathing Supplies
2-3 Extra Catheters or Pre-lubed Catheters
A Tube of Lubricant
Sterile Gloves
Baby Wipes
Broviac Repair Kit
Dressing Change Supplies:
Hand sanitizer
2 medical masks
4 adhesive remover wipes
Non-sterile pair of gloves
2 packages sterile gloves
Materials to clean the site (Betadine swabsticks package, alcohol swabsticks package, chloraprep, sterile water...)
Skin barrier wipe
Bio patch
Tegaderm
Hypafix
4 alcohol wipes
Caresite luer
Saline flush
Heparin flush
Curo cap
Travel Tips for Packing Medical Supplies:
When asked for travel advice this is a tip one of the MMIHS Moms had to share:
"I pack everything according to "process." For example, I put everything I will need to do catheter for the whole trip in large ziplock bags (with the easy zipper). I put daily "packets" together for TPN/Omegaven setup so we just grab 1 packet per day to make and setup all of it at night and then I don't have to dig around entire bag gathering all these random supplies. I do another large ziplock with "everything for G button. I pack things like gloves in a medium ziplock instead of packing the bulky boxes"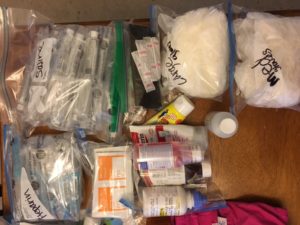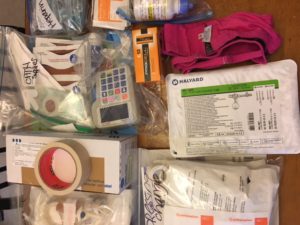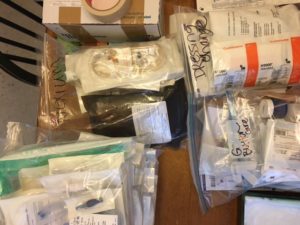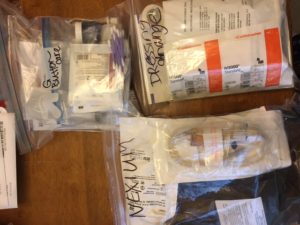 Air Travel Tips
Call the TSA cares line prior to your trip and ask for an attendant to meet you at security. This way you only explain your situation to ONE person and then they help get you through and provide explanation to the other agents.
Put all medical supplies and TPN in a rolling suitcase. You may need 2 depending on length of trip. Carry the suitcase on with you, don't check it.
If the bag contains only medical supplies, it doesn't "count" against your allotted carry on items.
Pack all medical supplies in clear ziplock bags so they can search through easily but not put their germ filled hands all over every single item.
Leave plenty of time for security.
Request they use new gloves before searching your bag.